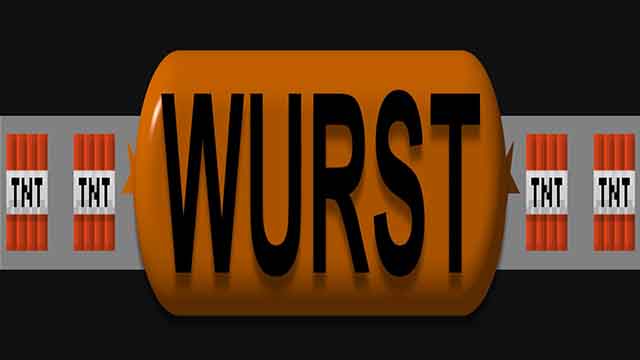 Minecraft Wurst Hacked Client Download
The Wurst Hacked Minecraft Client, developed by Alexander, is packed full of the latest and most exciting Minecraft mods, hacks and features. The Wurst Hacked Client puts you in the driver's seat!
Over 100+ Cheats

The Minecraft Wurst Hacked Client comes packed with over 100+ cheats that let you rule the playing field. All cheats are instantly deployable at a moments notice…you rule the game!

AltManager

Wurst comes packed with a full featured Alternate Account Manager because we know you love those alts! It uses modern encryption algorithms to ensure your alts are stored securely.
MultiOS Support  

You pick the OS and we'll make sure Wurst runs on it. The Wurst Client fully embraces MulitOS Support by proving full-scale usability across Windows, Mac and Linux OS'. Learn more!

Easter Eggs

Who doesn't love surprises!?! The Wurst Hacked Client is the only Minecraft Hacked Client to come standard with fun and exciting Easter Eggs. Can you find them all???
OptiFine TuneUp

We want you to have the most enjoyable experience so Wurst comes packed with OptiFine right out of the box. Enjoy HD texture packs, greater rendering distances and higher FPS!

A Whole Lot More!

We can't possibly list all the new and awesome features – we want you to discover some on your own! Grab a download, have a play and enjoy the smooth and relaxing gameplay…
Book Hack

Allows you to insert links that execute commands into writable books. This can be used to trick other people (including admins) into executing commands like "/op YourName" or "/kill".

Change Log

Opens the Wurst changelog in your browser so you can learn about all the awesome new updates, bugfixes, new hacks and a whole lot more.
Server Finder

The ServerFinder is a tool for finding easy-to-grief Minecraft servers quickly and with little to no effort. ServerFinder usually finds around 75 – 200 servers.

Session Stealer

Temporarily steal the Minecraft account of another player. This could be used to hack into the account of a server admin or to alt accounts. Don't be a mean, naughty hacker.
Target

Controls what entities are targeted by other features (e.g. Killaura). Also allows you to bypass AntiAura plugins by filtering out fake entities.

YesCheat+

YesCheat+ makes other features bypass AntiCheat plugins or blocks them if they can't. YesCheat+ is designed for bosses and taco lovers.
LCONTROL: Click GUI

Commands: .help

.addalt
.annoy
.bind
.clear
.fastbreak
.friends
.gm
.ip

.nuker
.ry
.say
.search
.stats
.taco
.throw
See more!
Be a boss and download this butt-kicking Minecraft Hacked Client today!
Back to Top
Get Minecraft hacks for free on Free-Game-Hacks.com